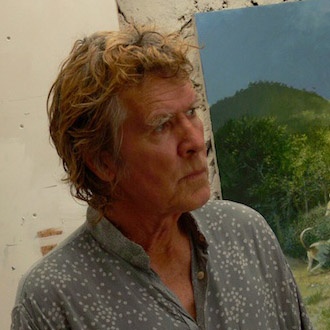 Peter was born in 1937. He studied at Middlesbrough School of Art and St. Martin's, London, where he taught in the late 60′s; also at Sheffield Art School.
Between 1965–90 Peter had ten one man shows with the Piccadilly Gallery and has exhibited in Bologna, Milan, Brussels, Hamburg, Ibiza, Baden Baden and Dublin. He took part in The British Council Touring Exhibition in 1989/90 which travelled to Kuala Lumpur, Hong Kong and Harare.
Peter also designed sets and costumes for the Royal Ballet Company between 1967– 70.
He and his wife and three children moved to Ibiza in '71 and lived there for many years – returning to London and Norfolk in 1990. They returned to Ibiza in 2002 for eight years and are now living in Norfolk.
——
Selected Exhibitions
ONE MAN EXHIBITIONS

Piccadilly Gallery, London, 1963, 1965, 1967, 1970, 1972, 1976, 1981, 1984, 1987 and 1991

Galleria Carbonesi, Bologna, 1968

Galleria Vinciana, Milan, 1968

Gallery New Smith, Brussels, 1976

Gallerie Wittepoppentoren, Hasselt,Belgium, 1977

Middlesbrough Art Gallery (retrospective), 1980

Galerie XX, Hamburg, 1981

Galeria el Mensajero, Ibiza, 1982

Laloux Dessain, Broussels, 1986

Galerie Munsterberg, Basel, 1986

Galerie Knapp, Baden-Baden, 1993

Solomon Gallery, Dublin, 1994

East West Gallery, London, 1998, 1999, 2001

Quay Arts, Newport, Isle of Wight, 1999

Es Moli Gallery, Ibiza, 2000

Unit 21, Dublin, 2000

Frame Gallery, Norwich, 2001

Centre Cultural de Sant Joan, Ibiza, 2003, 2010

Portal Gallery, London, 2006

Galerie Ellen Richard, Zurich, 2012

GROUP SHOWSSalon de la Jeune Peinture, Paris, 1967

Bradford City Art Gallery, 1967

II Biennale Internazionnale della Giovanna Pittura, Bologna, 1967

'Narrative Painting in Britain in the 20th Century', Camden Arts Centre, 1969

'This England', Rutland Gallery, 1969

'Fine Art for Industry', Royal College of Art Gallery, 1969

'Works on Paper', Bear Lane Gallery, Oxford, 1970

'Critic's Choice', Arthur Tooth & Son, 1971

Arts Festival Exhibition, Ibiza, 1974

Contemporary Arts Society, Art Fair, 1975

Basel International Art Fair, 1975 – 1993

Cologne International Art Fair, 1977

Bologna International Art Fair, 1977

English Realism', Waddington Galleries, Montreal, 1978

Bulgarian Biennial of Contemporary Art (Prizewinner), 1978

The Minories, Colchester, 1980

Düsseldorf International Art Fair, 1980

Galerie XX, Hamburg, 1981

International Contemporary Art Fair, London, 1985 – 1990

Casa Municiple de Cultura, Salamanca, 1986

Athena Art Awards, 1987

The British Council Touring Exhibition

'Picture People', 1989/90 shown at:

The National Art Gallery, Kuala Lumpur, 1989

Hong Kong Museum of Art, 1990

National Gallery of Zimbabwe, Harare, 1990

Long & Ryle Gallery, London, 1991

Galerie Ulrich Gering, Frankfurt, 1992

London Contemporary Art Fair, 1994

Everard Read Gallery, Johannesburg, 1994

East West Gallery, London, 1997, 2000

London Contemporary Art Fair, 2001

London Contemporary Art Fair, 2006

London Contemporary Art Fair, 2007

Portal Gallery, London, 2007

London Contemporary Art Fair, 2013